How did scott mills and chris stark meet joe
BBC Radio 1 - Scott Mills - Clips
BBC Radio 1's Scott Mills in Conversation with Chris Stark. Viral sensation meets radio legend. BBC Radio 1's Scott Mills in Conversation with Chris Stark. Chris Stark. Known to many as that endearingly funny guy that works with Scott Mills on Radio 1. But then he was sent to interview Mila Kunis. The jokes were broadcast as Mills and fellow presenter Chris Stark stayed on air for 24 hours in a marathon show to raise money for Comic.
The clips are played to someone from the BBC or a celebrity guest while the person's mouth is full of water, and the aim of the game is to hit the other person with the water when it spirts out when you laugh. This is played on Tuesdays and Thursdays at 1: After a previous hiatus between January—AprilInnuendo Bingo is currently on hiatus, and has been since September Show 'N' Tell— In this occasional feature, team members bringing in items which they think are outstanding, and is accompanied by an underwhelming fanfare.
It originated from a Real or No Real fact in January Audio from the Unnoficial Radio 1 Archive There is also a "gap" before the first chorus, in which show highlights and other entertaining clips are played. Bangers—Scott and Chris both choose a song to play and listeners call in and one listener chooses between the songs usually at 2: Running out of music—A feature played occasionally that is based on Chris' theory that there are a finite combination of notes that can be used to make songs and therefore at some point the world will run out of new music.
YFC AGM - Q&A with Radio 1's Scott Mills and Chris Stark
To illustrate this, Chris plays a selection of recent songs to Scott and compares them to older songs that sound similar. This is usually played when Chris is absent. Ghostbusters-Scott invite listeners who have been " ghosted " to get in touch, and share their experience.
Scott or Chris will then attempt to contact the "ghost" person who ghosted the listener and obtain an explanation for their sudden disappearance. Often, ghosts are unwilling to appear on-air although some offer explanations. This happens every Monday. James the PI-James, a real life private investigator phoned the show once and told some stories about his line of work.
He is now the show PI and appears every Thursday formerly Friday to tell a story about a job, usually with a particular theme. The Google Game-Scott, Chris and a guest usually a fellow Radio 1 DJ will be given a prompt consisting of the first few words of a question commonly searched on Google.
They must together finish the sentence to guess what the most popular searches are, often revealing things about themselves in the process. During the programme, "Scott Mills Points" may be awarded by Mills to those who contact the show by telephoneSMS or Twitter with an amusing, helpful or positive response. Scott Mills points came into existence inalthough they are now rarely referenced.
Scott will also say "Love you bye! Other former catchphrases include "Alright treacle", "Oy oy saveloy! Former features[ edit ] View from "Scott Cam" of Mills presenting the show in his living room Flirt Divert—Mills provides a phone number for men on blind dates with homely women. Their calls went to the Flirt Divert answer phoneand Mills played them on the air.
The show went on the road with a tour bus, and held auditions in five UK cities to find Laura a date. Auditions in each city involved 20 single men, who were picked from thousands of entries. The Take Away Game—Resembles many prank call games. This involves two take-away stores; Mills rang one, ordered food from its menu and put it on hold. He then rang the second take-away store; before he gave his order he asked the first take-away store to repeat his order.
It was repeated to the second take-away store, with the expected confusion.
Scott Mills (radio show) - Wikipedia
The Florist Game—A florist normally foreign was rung up, apparently to buy flowers; however, the real intention was to write a message which was actually a song normally hip-hop or rap. Mills tried to get the florist to repeat the message, which was later played over the real song. The Great American Name Game—Finding humorous names in American telephone directories, with the objective of getting the callees to say their name The Library Book Game—Involved ringing a library and enquiring about the existence of a fake book and author, the combination of which is a double-entendre.
The Honesty Game—a feature in which Mills, Chapman and Beccy answered questions from the public as truthfully as possible.
The Wonder Years—Scott Mills would play 20 or so song in year by year order. This was dropped from the show after Scott Mills and Greg James swapped time slots. Livestock Lounge—Involved live animals that must be identified while blindfolded, and was performed in the Live Lounge. Chapman conducted the first segment on 20 Aprilwhich included a rabbit, a duck, a lamb and a snake.
The second segment, on 20 Decemberinvolved Chapman identifying a turkey, a ferret and a toy singing goat. Mills revived the feature renamed "Livestock Lounge Extreme" on 9 April with a pythona squirrel monkey and a warm-weather penguin. Phonebook Roulette—Involved writing a text message on a mobile phone and sending the message to a random person by scrolling through the phone book.
The message was usually curious or had mild innuendo, enticing the recipient to text back with an inquiry. Beccy's Classifieds—Beccy found strange or interesting online classifieds, then had Radio 1 announcers read them.
On 7 Augustthe only classified they purchased was an empty jar purported to contain the ghost of George Harrison. Missed connection advertisements became a part of more-recent features. The first segment featured UK beatboxer Beardyman. Cheerleading, mind-reading, tennis, interviewing celebrities and escapology were also unsuccessfully attempted. Just for the pun of it—Beccy and Mills phoned specialist shops, trying to slip into the call as many puns related to the profession as they can.
Phone calls included a cheese shop, a pet shop and a French restaurant. Coxipedia—First heard in SeptemberSara Cox talked for a minute about a listener's chosen subject.
The feature aimed to have more entries in Coxipedia than Wikipedia by ; listeners applied to have their idea featured on the radio 1 website. The Musical—Performed at the Pleasance One Theatre at the Edinburgh Festival Fringe from 11 to 13 Augustlisteners supplied ideas for the musical due to its lack of stage material.
The team requested audition videos for the role of Mills; the finalists were Adam from SouthamptonJoe from Gloucestershire and Luke from Merseyside. The phone lines were opened early on Friday, 17 July for listeners' votes; Joe was declared the winner that afternoon.
Laura's Diary—Former assistant-producer Laura had her teenage diary read by her younger sister, Mary including stories of her first love, Ben, and difficult times at university. Treadmill Trivia—Quiz-based feature involving a treadmill and a contestant. For every question answered incorrectly, the treadmill's speed increases usually to the point where the contestant falls off, to comic effect.
It's Only Bleyyyy Friday! The caller challenges Becky; if they win, they stay on for another game. If they lose, a new caller appears the next time. The rules are flexible, with Mills changing them at will. The feature was retired in Julybut revived in April when the show moved to its new time slot. The feature went on hiatus again in Novemberbeing replaced by Real or No Real. Scott would talk into Chris' ear and tell him to ask questions of men in other toilet cubicles.
Fish Pie Sue—A contact in your phone that you have no memory about. Maybe some one you met on a night out and had a memorable feature about them that at the time you thought would trigger your memory the following morning.
Scott get people to phone their Fish Pie Sue back to find out who they really are. Loving the Trolls—A segment where Mills read out abusive tweets and Facebook messages through the voice of Laurence, the automated speech system. Well its not actually as thought through as perhaps it sounds… I did this Mila Kunis interview and it went so viral…that was a really strange week. It happened very quickly. So I had this little idea, which turned into the Channel 4 show, Celebrity Hunter.
I got given a lot of freedom; I got to film a lot of it with my mates and we just arsed around with a camera for a month or two with a bucket list of celebrities I wanted to interview.
We could have contacted people through Radio 1 but this was meant to be as if any of your mates could do this in the pub-that was the aim of it. And then ridiculously they put it on the TV! Well I thoroughly enjoyed the show because your style of interviewing is very unorthodox which is why it is brilliant Thank you! Revolutionise chat shows Chris! Every chat show is the same. What was it about the show that appealed to you? Whenever I watch panel shows no one ever cares about the points!
Recording the last show I genuinely felt a little bit emotional! I am so excited for people to watch this series!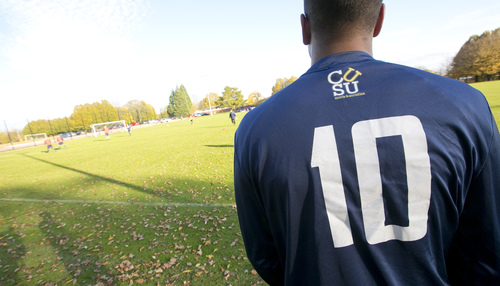 And the guests have been so funny! I was at the recording of episode 2, when you got punched by David Haye! The top of my chest went all yellow! They had to call a medic on…it was not planned! I mean I thought he was going to punch me in the arm or something. Same episode, there was the guy that flew the paper aeroplane into the football field, which you loved!
"You're really freaking me out!": Charli XCX PRANKED by Superfan Steve
So what sort of videos do you enjoy watching on the Internet? I do tend to see what everyone else watches, so I click a lot on what people put up on Facebook. Especially football videos with outrageous skill! I love those but the videos on Virtually Famous are the best videos the Internet has to offer.