Nnenna okore when the heavens meet
Ọfọdunka: Nnenna Okore's Metamorphoses at October Gallery London
Nnenna Okore, When the Heavens Meet the Earth, wished I could write more on these new, diaphanous sculptures by Nnenna Okore. When the Heavens Meet the Earth brings together selected works from Robert Nkanga · Anthony Okello · Nnenna Okore · Malick Sidibé · Misheck Masamvu. Nnenna Okore: Ukwa Ruo Oge Ya O Daa– There's a time for everything Africa Africans, Museu Afro Brasil, Sao Paulo and When the Heavens Meet the Earth.
When The Heavens Meet The Earth
We explain a lot of why we do in retrospect; now I say it's partly because I think African art is underrepresented and deserves more recognition and that's all true but that's not the only reason why I set out to do it.
Tell me a bit more about why you're so passionate about Africa. One of the problems of explaining it is that you end up using terrible cliches and generalisations; but it's the whole look, smell, and feel of the place. It comes down to two things really — the land and the people. I also love Scotland for similar reasons: I think places where man hasn't completely overwhelmed the natural environment really respond to me.
Again it's a ludicrous generalisation but I do find with the people there's an openness and spontaneity; and a kind of anarchy to the place. It isn't anarchy but I think here we live in a very mature society in many ways: Mature isn't always a positive adjective.
When the Heavens Meet the Earth
Do you think that sort of spontaneity in the place and people come through in the art? I think it does. I think partly because there's a lack of infrastructure in Africa so most of these artists didn't necessarily go to art school, although by now they've all been in a learning environment of some sort like residencies or exchanges. But they're much less institutionalised, so they have fewer preconceptions. They come to their practice from a more internal place with less external influences.
I'm not at all criticising art school but they don't think about things like 'what is art'. They just do what they do, but that's not to say they don't do it thoughtfully because they do.
Meschac Gaba 16 plaques from Bibliotheque roulante, Copyright the artist Courtesy The Heong Gallery Is there any sort of normal career trajectory for young artists in Africa?
How does their journey differ from art school educated western artists? There is to a certain extent a 'career path' to being an artist in the west but most African artists don't have that luxury. There's a strong artistic tradition in many African countries but all connected to ceremony or religion or some kind of cultural utility, but contemporary art is engaging in very different motivations and tools. There aren't many families who are very supportive of African artists because it's not something they understand: This isn't a job!
This isn't going to earn you any money! They tend to form communities and exchange ideas and practise but they're largely self-taught. I don't think it's easy being an artist anywhere but we're so privileged with funding and things like public institutions here, and they don't exist in Africa.
What's the commercial gallery scene like in Africa? It's very thin on the ground, but is better than it was. In South Africa it's pretty good; it's not bad in Nigeria; it's getting better in Kenya but it's still pretty thin on the ground.
Outside of South Africa and maybe Nigeria there's no real culture of contemporary art collecting that I'm aware of. But then things can change quickly: Are there any African countries or cities you're particularly excited by art-wise at the moment? It's always invidious to pick but I think Harare in Zimbabwe, especially if you consider the difficulties the country is going through and has been through.
I'm dying to go back there. There's a gallery called Gallery Delta that's been going for 30 years doing extraordinary work, and a new gallery called First Floor.
There are obviously other places too but those spring to mind. Otobong Nkanga Trapped, Q. Yaba, Lagos from Filtered A'lemories I'm bound to avoid that question and the honest truth is no.
One of the wonderful things about doing this show is seeing some work I live with and some that I haven't seen for ages, and there isn't anything that I've thought 'why did I buy that? What I love is that there's an extraordinary variety of work here and it coheres rather than conflicts.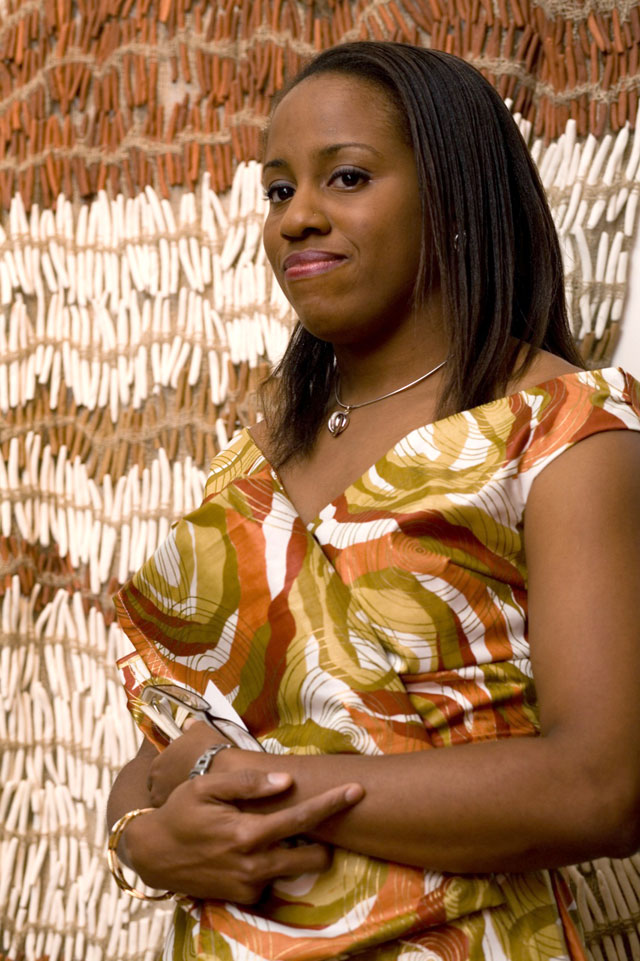 It's still quite calm and contemplative. Having to select 40 works from was always going to be a difficult task so I wanted to have as much as I could fit in here. Tessa [Jackson] is a properly trained curator and so she was worried it would be over crowded or overwhelming: But I love it, I think it works. What do you hope people coming to the show will take away from it? What do you think British artists can learn from the African artists you're showing here?
I hope in a way it might show that art is by is nature completely protean. I don't have any prescription, I think just show it and see what happens and hopefully, maybe it'll make people rethink their preconceptions about the value of art and what works and what doesn't. What sort of preconceptions? I don't really know what those preconceptions are. One might be to those who still think there's something in the argument that painting is a dead subject.
I suppose the other is conceptual art: I rather reject the notion of conceptual art as a separate category of work, because I think all great art has a conceptual underpinning. Okore performs a kind of artistic alchemy, a complex transformation of the recycled substance into something new and valuable that, in turn, represents its earthy origins. These transformations encapsulate the rhythms of the natural world and it is the disruption of these rhythms that troubles Okore deeply.
Cheesecloth, jute string, lace, dye and wire, 99 x x 31 cm. The artist, who was born in Australia in was raised mainly in Nigeria, and now lives and works there and in Chicago. She talks to Studio International about her work. Man has a symbiotic relationship with the Earth. We depend on the natural surroundings for sustenance, shelter and survival. We can only ensure our longevity if we protect and preserve the planet.
Climate change is increasingly becoming a dire crisis for humanity. Ironically, this is being triggered by indiscriminate human activities. By disrupting the flow of natural activities, we stand to loose in the long run.
Cheesecloth, jute string, dye and wire, x x 33 cm. Some of your works look like flowers on the verge of dying, and some of your titles allude to the passing of time. And while these titles are beautiful and the works rich in colour, there seems to be a sense of melancholy in them, too.
Is your work born from a longing for something that is lost?
We Face Forward: out of Africa comes the art of noise - Telegraph
I am interested in expressing the beauty of life and death. Flora, the symbol that I use repeatedly in my work, represents the journey of life. In its lifespan, the flower experiences a flourishing climax followed by a series of deflation. It embodies the fleeting nature of existence. I therefore strive to celebrate the beauty of life while it lasts. Even after it fades away, another bloom will come in the form of a new birth, [and] tomorrow, the sunlight. Death will always give way to birth, as the cosmic laws have ordained.
And the titles read like excerpts from a novel: Is literature an influence in your work? As you rightly observe, I theme my works metaphorically and poetically. In so doing, I layer the title with nuance and depth. Ceramic and burlap, x x 31 cm. Courtesy October Gallery London.
The botanical forms you construct are larger than life and almost otherworldly. Has the theatre inspired you? Certainly, the theatrics of space is an important aspect of my sculptural displays and installation. I am intrigued by the juxtaposition of delicate movements and the play of light.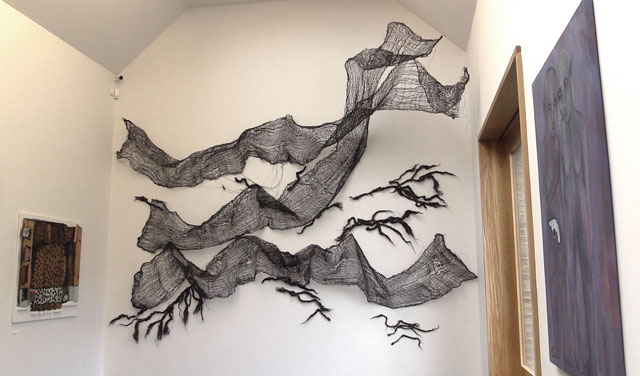 With every turn, entanglement or accumulation, the spatial elements appear to breathe, dance and cascade through space. Also the drama of light and shadow is deliberately infused into the piece to further the sensorial experience.
How important is colour to you, and how do you choose your colours? I am a fan of colour, especially loud earthy tones such as red, orange, ochre and yellow. Colour gives character to my work. Although, I must say that my reasons for using specific colours are highly subjective. Other times, I defer to the colours of the materials themselves and have no say. Ihe Di Ife, You initially studied painting at the University of Nigeria, and then decided to study for an MA in sculpture.